What if West Point graduates are planning a coup?
This post was last modified: 11 Jan 2016 02:36 PM by

Bob Mayer

.

The Line is the moniker for the "The Long Grey Line" of West Point graduates. My Cullum Number (graduation # since it was founded) is #38625.
This is kind of an updated Seven Days in May, the classic book and movie with Kirk Douglas and Burt Lancaster.

"Mayer has crafted a military thriller in the tradition of John Grisham's The Firm." Kirkus
"So convincing, that by the last page, readers may doubt the official version of the last 50 years."  Publishers Weekly
Is it possible the military would mount a coup against the President of the United States?  This novel examines one frightening possibility.
The Line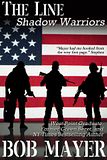 "